Technology has altered our eating, shopping, and travel habits and is transforming how we purchase real estate. Ten years ago, few New Yorkers would have imagined paying for anything with a tap of their phone. Now, you can search for luxury real estate listings right in the palm of your hand. And with the rise of virtual reality, potential buyers can virtually tour a house from the comfort of their couch, and even empty homes can be styled with virtual furnishings and accents. Digital applications and document uploads simplify the purchasing process from bids to settlement. Thanks to the wonders of technology, transferring property ownership to a new owner is streamlined and straightforward. From their smartphones, buyers can create, confirm, and file several crucial legal documents, title searches for properties, and even settlement arrangements.
Why 44% of home searches start online
Considering the above, it should be no surprise that the home search process has also shifted online. A recent
report
by the National Association of Realtors Research Group found that 44% of homebuyers across all generations looked online for properties for sale as the first step of the home purchasing process. Of that 44%, an astounding 98% of homebuyers used the internet to search for listings, while 76% used mobile devices. Buyers are also looking at online listings on real estate websites or apps more frequently, with just 1% of purchasers using the traditional method of looking in the newspaper. It appears the print era of real estate is drawing to a close.
What to do next

Now that we've determined the ease and convenience of living in the digital age, the next step is determining what that statistic means for luxury home sellers. If you want your listing to become and stay relevant in today's market, you will need an expert online marketing plan. Whether you're trying to sell Upper East Side real estate or downtown Manhattan real estate, here are some essential things to keep in mind:
1. Ensure your realtor lists your property on MLS
If you're selling a luxury home, your realtor will list it on the
Multiple Listing Service (MLS)
. The MLS is an online database of available properties that real estate agents and brokers use to find homes for their clients. By listing your home on MLS, you significantly increase the chances of finding a buyer because you're making your home available to a much larger pool of potential buyers. The result of this increased exposure is selling your home faster and for more money.
2. Use professional photography
Photo courtesy of Shutterstock
If you're marketing luxury real estate, it's crucial to present your property in the best possible light. That means hiring a professional photographer to take high-resolution photos from various angles. A pro will know how to capture all the details potential buyers want to see, from the finely crafted moldings to the sweeping views. And because first impressions are everything in the world of luxury real estate, you will want to ensure that your property looks its best online. So whether you are selling a penthouse suite or a midtown condo, make sure you hire a photographer who can do it justice.
3. Leverage video content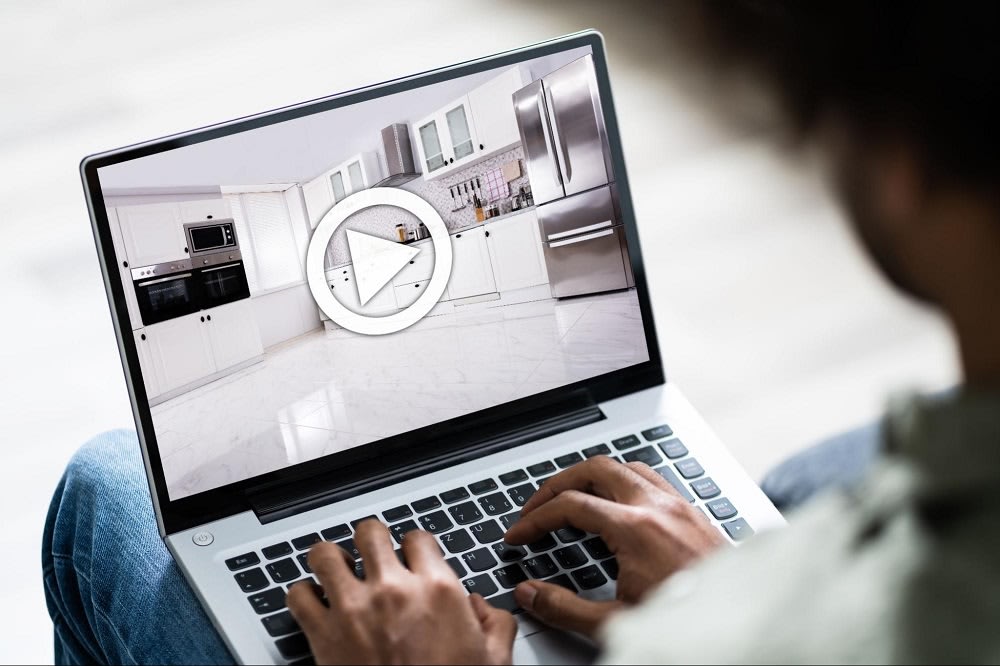 Photo courtesy of Shutterstock
A picture may be worth a thousand words, but a well-produced video can be worth even more. We have seen many luxury real estate buyers begin their search for a new home online. A virtual video tour is a perfect way to show off your property to potential buyers, giving them a real feel for what it would be like to live there. When it comes to creating a video tour, quality is key. Be sure to hire a professional videographer who has experience filming luxury homes. With their expertise, they will be able to showcase your property in the best light possible and give potential buyers a true sense of its luxury and style.
4. Emphasize the luxurious amenities

When you're marketing your luxury real estate online, be sure to highlight all of the luxurious amenities that come with the property. An infinity pool, a home theater, or even a large backyard can make your property more attractive to potential buyers. If your property has unique features or amenities, mention them in your listing photos and description.
5. Employ social media
Photo courtesy of Unsplash
When listing your luxury home, you want to ensure that many potential buyers see it. How many? Traditional marketing methods, such as print ads and open houses, can only reach so many people. But with social media, you can reach a global audience with a few clicks. Your realtor can share photos and information with prospects via Twitter, Facebook, TikTok, and Instagram. The most reliable realtors will use high-quality images and target posts to the correct target audience. With social media, you can be confident that your listing will get the exposure it deserves.
6. Appeal to an international audience

If you're looking to sell your luxury real estate quickly, you can appeal to an international audience. Manhattan has some of the most desired real estate in the world, and it pays to put your listing in front of international buyers. In addition to listing your property on popular domestic real estate websites, ask your realtor to list it on international sites. And when they are writing your listing description, be sure their language appeals to buyers worldwide. You never know who might be interested in buying your property!
Marketing your luxury real estate online doesn't have to be overly complicated. Just follow these simple tips, and you'll be sure to attract high-paying buyers worldwide. If you need help getting started,
contact
our team of luxury real estate marketing experts today.
Rebecca Blacker
and
Arlene Reed
will help you take your Manhattan real estate marketing efforts to the next level!

*Header photo courtesy of Shutterstock