When you own a condo in Manhattan, you know first-hand that your home is an oasis in the concrete jungle. As such, it's important to decorate and design your space to reflect your unique style and personality. However, with so many selections available, it can be hard to decide on the perfect look for your home. Luckily, we've put together a list of the latest interior design trends that are perfect for luxury condo living in Manhattan. Keep reading to find out more!
Trends for NYC's elite condos

When it comes to interior design, you should settle for nothing less than the trends inspiring the rest of New York City's elite. From rich jewel tones to natural elements, there's something here that will fit with your chic style. Here are the latest interior design trends sweeping through Manhattan condos:
Modern glamor

Modern glamor is the perfect trend if you're looking for a truly unique design aesthetic for your condo. This style combines traditional luxury with contemporary design principles to create a one-of-a-kind look. To apply this interior design scheme, focus on bold colors, sleek lines, and luxurious fabrics, such as velvets, silk, and cashmere. Furniture with clean lines and minimal embellishments will also help to complete the look. With these elements in place, you'll be well on your way to achieving modern glamor in your own home.
Art deco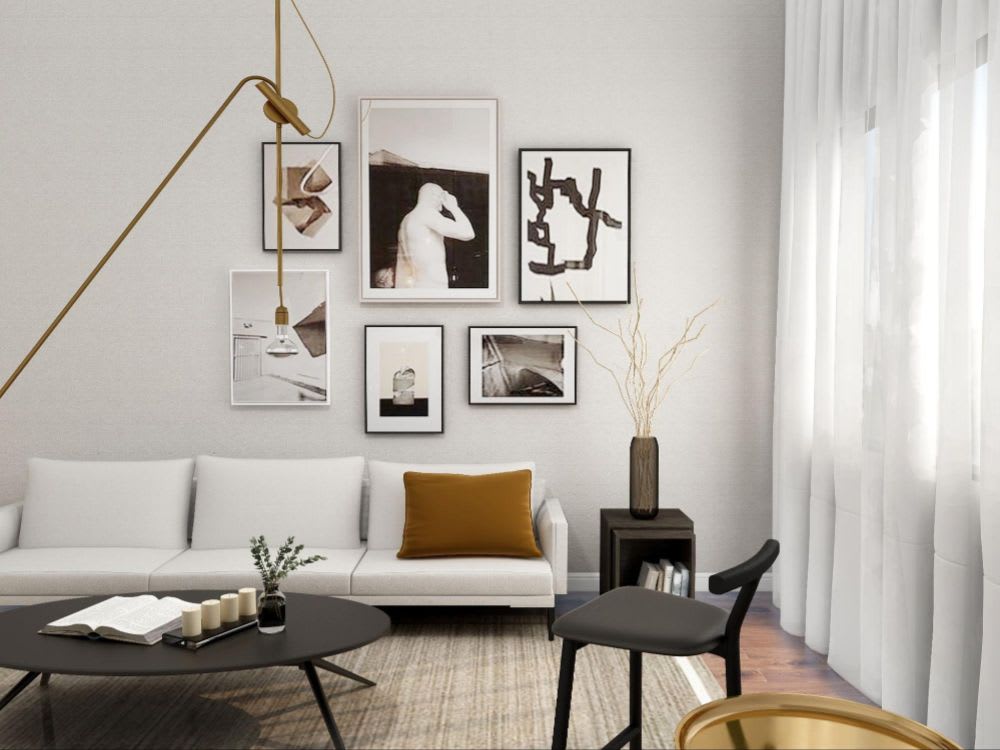 Photo courtesy of Unsplash

As a timeless style that never goes out of fashion, art deco is perfect for luxury condo living. Because Manhattan is all about clean lines and modern architecture, this style will give your condo a chic, contemporary feel that aligns with the city's overall look. Focus on geometric patterns, metallics, and bold colors to bring this scheme into your condo.
Eclectic

Eclecticism is all about mixing and matching different styles to create a unique, one-of-a-kind look. If you're bored with traditional décor and are looking for a more personal and eclectic style, this trend is definitely for you. When creating an eclectic space, there are two key elements to keep in mind: visual interest and cohesion. First, you'll want to focus on creating visual interest by mixing and matching different textures, patterns, and colors. However, it's essential to maintain a sense of cohesion by selecting pieces that share a common element, such as materials, colors, or shapes. For example, you might pair a vintage leather armchair with a modern metal coffee table. Or, you could mix a floral wallpaper with geometric accent pillows. By carefully selecting pieces that complement each other, you can create an eclectic space that is both stylish and cohesive.
Rich jewel tones

There is no substitute for rich jewel tones when it comes to creating a luxurious space. Deep emerald green, royal blue, and burgundy add a touch of elegance and sophistication to any room and can create stunning visual effects that are sure to impress your guests. To incorporate these colors into your design scheme, look for ways to use them in your furniture, fabrics, and art. For example, you might consider upholstering a chair in a deep green velvet fabric or hanging a set of gilded curtains in your living room. Whatever approach you take, using jewel tones in your condo is sure to create a luxurious and inviting space.
Metallics
Photo courtesy of Pexels

Metallics are having a moment right now in interior design, and they are the perfect way to add a touch of glamor to your Manhattan condo. There's something about metallics that just exudes "luxury." Whether it's the glimmer of gold, the shine of silver, or the richness of copper, these materials make a space feel high-class and glamorous. Whether you go all-out with a high-end gold chandelier or keep it subtle with some metallic accent pillows, you can't go wrong with this trend.
Natural elements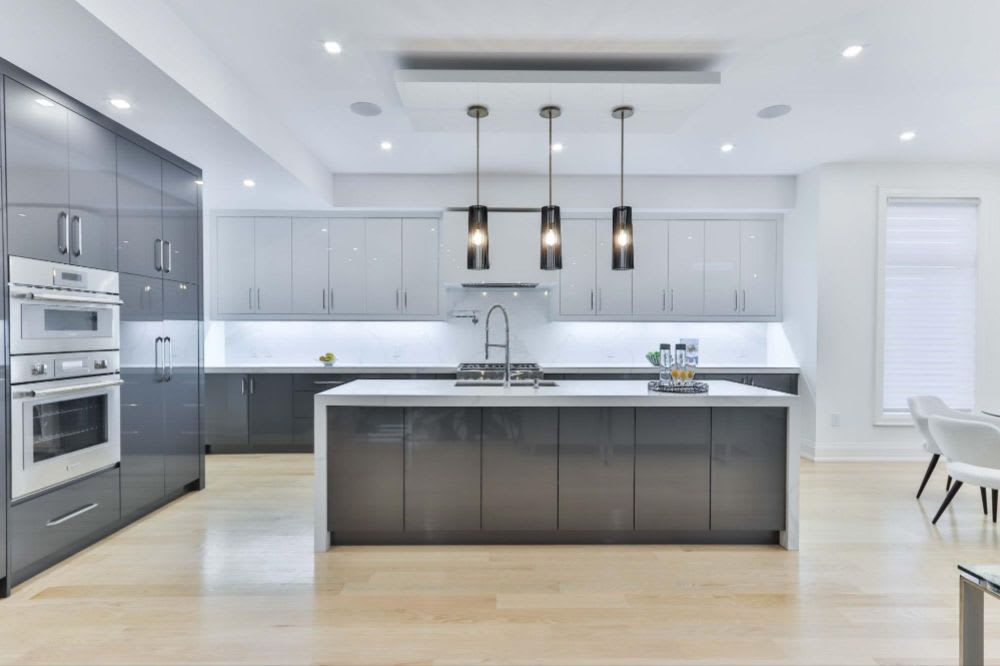 Photo courtesy of Unsplash

In today's world of technology and artificiality, there's something to be said for incorporating natural elements into your home. This can be anything from wood floors and furniture to stone countertops or even plants, which not only give your space a refreshing and organic feel but also purify the air quality in your home. Not to mention, natural elements are also incredibly stylish and can give your condo the feel of a luxurious, spa-like retreat.
Global influences

One of the hottest trends in interior design is incorporating global influences into your space. You can achieve this in several ways, from using traditional Moroccan tiles in your bathroom to hanging masks on your walls. When done correctly, global design can fill your home with fabulous conversation starters, making it feel like a luxurious retreat.
High-tech features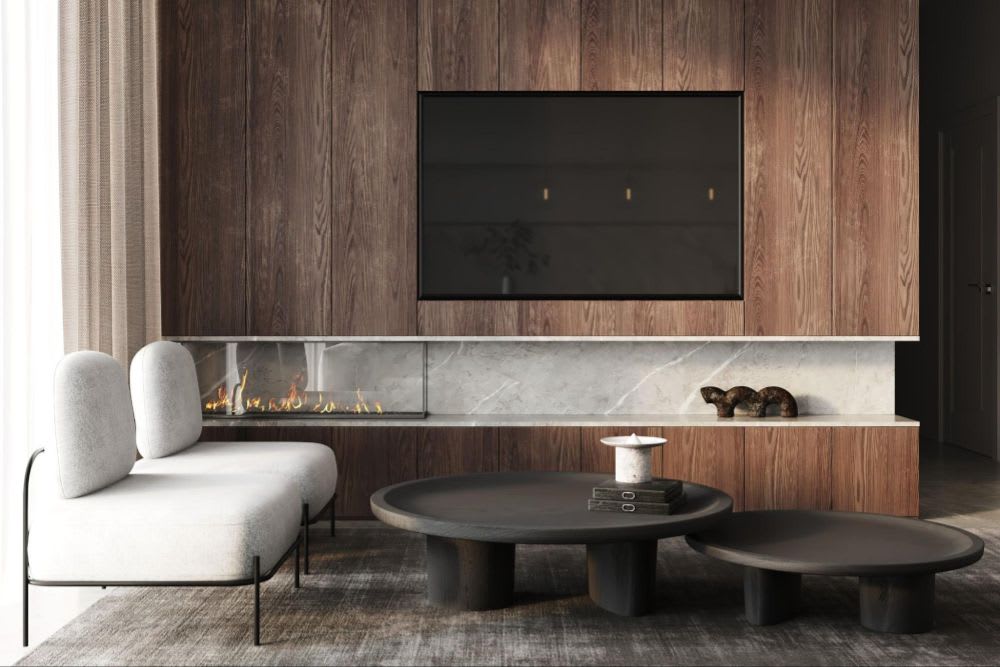 Photo courtesy of Unsplash

If you're looking to take your home's interior design to the next level, there's no better way to do it than by incorporating some high-tech features. For example, if you want a luxurious and high-class look, you might consider adding a digital fireplace. Not only does it provide a warm and inviting focal point for your space, but it also gives off an air of sophistication.

If you're looking for a way to add some extra light to your home, consider installing smart lighting. These lights can be controlled via your smartphone or tablet, meaning you can easily adjust the mood of your space depending on the time of day or occasion. Whatever you choose, make sure it's something that will take your Manhattan condo to the cutting edge of style.
Neutrals with a pop of color
When it comes to interior design, creating a calming atmosphere is often the goal. Neutrals are a classic choice for achieving this look. They provide a sense of peace and can help to visually enlarge a space. However, if you want to add a bit more personality to your Manhattan condo, consider incorporating pops of color throughout the space. This can be done via your accessories or artwork. For example, a brightly-colored vase or piece of abstract art can add interest to a room without being too overwhelming. When used sparingly, pops of color can add just the right amount of personality to any neutral space.
When it comes time to update your condo with new life, be sure to keep these trends in mind. With so many available options, you'll be well on your way to designing a space that perfectly reflects your unique style and personality. Happy decorating!
Looking to glean some additional design tips for your Manhattan condo? Get in touch with
Rebecca Blacker
and
Arlene Reed
, New York's most innovative and dedicated
real estate duo
. This expert team is well-versed in Manhattan's hottest design trends.
Contact Blacker & Reed
today!
*Header photo courtesy of Unsplash